Start main content
28 Apr 2023
Whole Range of Cup Noodles Upgraded with W-tab Cup Lid Design
Collaborate with Hot Animation Character Jujutsu Kaisen
to Unveil the Secret of Reward and Earn More Exclusive Incentives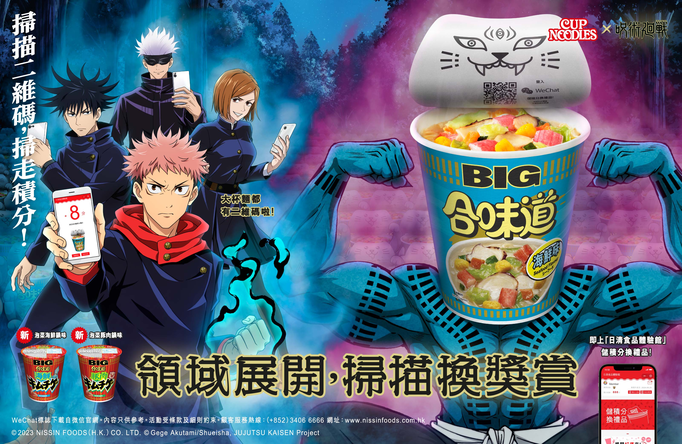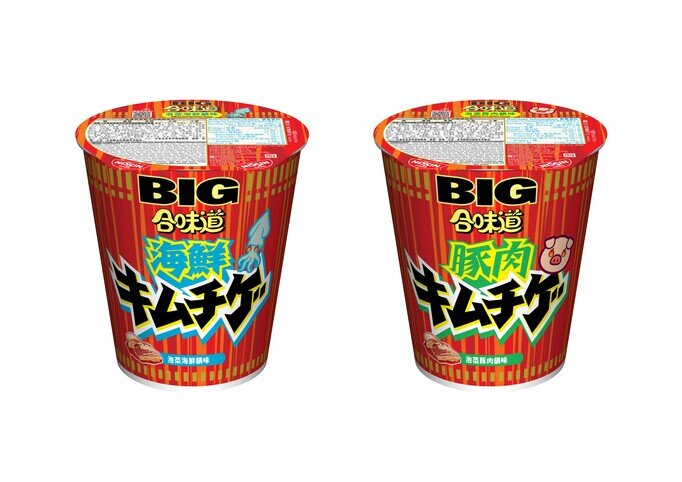 Nissin Foods Company Limited strives to enrich the purchase and tasting experiences of its products. Last year, its Cup Noodles regular and mini cups were upgraded with W-tab Cup lid design and membership QR code on the inner side of cup lid. The new design now is now extended to the Big Cup Noodles. By scanning the QR code thereon, Nissin Foodium loyalty program members will be able to earn points and redeem offers with great ease. To lively reveal the full range of Cup Noodles now in new design with QR code, Nissin Foods has joined hands with the popular animation character from Japan Jujutsu Kaisen to roll out a series of promotion activities. Also, Cup Noodles Big Cup will be launching new Kimchi series – Kimchi Seafood Hotpot and Pork Hotpot. Members can earn 5 times points by scanning the QR code on the cup lid's inner side of these 2 new flavours.!
Collaborate with Jujutsu Kaisen Create Cursed Spirit with QR Code in New TV Commercial
Cup Noodles collaborates with Japan's Popular Animation Character Jujutsu Kaisen (JKK) for the first time to publicise the Big Cup Noodles also in new design. As part of the publicity, a new TV commercial will be launched to playfully invite the public and Nissin Foodium loyalty program members for points accumulation and reward redemption. The TVC features a giant cursed spirit newly created by a good number of Cup Noodles with QR code on its inner side of cup lid, to unveil the secret of reward. Other featured JKK characters were seen punching back by scanning Nissin Foodium loyalty program's QR code on their inner side of cup lid. Following killing of the cursed spirit, they turn it into accumulated points.
Nissin Foodium Membership Program Redeem Fabulous Premiums with Accumlated Points
The Nissin Foodium membership programme provides not only the latest brand news but also exclusive shopping privileges, exciting purchase incentives and interactive games. Customers can sign up to be the program members simply by downloading related WeChat program and start to earn points for rewards by scanning the QR code on Cup Noodles (regular, mini cup and big cup). A wide array of premiums and surprises are on offer for redemption.
New Kimchi Series to Earn 5 Times Points
In addition to the exciting membership programme, Cup Noodles has simultaneously launched new Kimchi series - – Kimchi Seafood Hotpot and Pork Hotpot. Both new flavours are sweet and sour, tasty Japanese Kimchi hotpots. During the promotion period from today through 30 June, 5 times points* will be offered by scanning the QR code on these 2 new flavours.
* Subject to the terms and conditions. Points accumulation is only available for Cup Noodles with W-tab Cup Lid design. Please refer the promotion activity details to the Nissin Foodium WeChat Programme.
TVC preview:
About Jujutsu Kaisen
Jujutsu Kaisen is a Japanese manga series written and illustrated by Gege Akutami. It has been serialized in Shueisha's shōnen manga magazine Weekly Shōnen Jump since 2018. The story is about the race of spiritual beings arising from one's negative emotions and the Jujutsu SorcerersIn (Cursed Technique Masters) who endeavors to control the flow of Cursed Energy in the spirits' bodies.
The Jujutsu Kaisen manga enjoys high circulation of more than 70 million copies. Its anime television series aired from October to March 2021 met with resounding success in Japan, Hong Kong and around the world. A second season is set to premiere in July 2023 on another exciting cursed spirit story